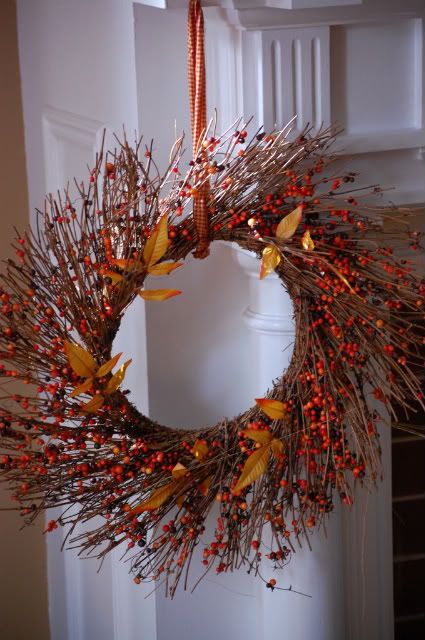 It feels good to finally post a few of our Halloween and fall decorations. I keep seeing so many neat ideas like the ribbon garland that Linda made for her contest a couple of weeks ago. I was so excited to be her winner, check out her masterpiece:

Thanks so much for this thoughtful contest, it really is beautiful! I haven't even touched the outside except for a fall wreath on the door. I purchased this caution tape for outside, but couldn't resist putting a little inside, who says bows can't go on anything?
These are fun, as we put them on the kitchen table. The lights were about $4.00 per strand; place them in a large glass container, wrap some ribbon, embellish, and BOO - you've got a lighted center-piece! The best thing about these lights is they turn off and on.
I stole the glass filled with skulls and eyeballs from my friend Kristen. The photos behind it are of
this
, I put together last year, and the sign was a buck at the dollar store!
The girl's favorite is Stanley the skeleton. He was lovingly named by the girls and would of course be their favorite, since Stanley is taking a bath in his punch bowl sized bathtub of candy!
This is Sparkley! I don't think I've captured his cuteness or done him any justice with this photo, but I fell in love with this little guy the moment I saw him. He is and will be the only cat that will enter our home - hopefully ever! He is now our new Halloween mascot. I think every holiday should have one, and he is ours to stay! I picked him up at our Canadian Wal-mart -for anyone who thinks he's as cute as I do!
And now onto more pressing things like five loads of laundry to fold, and hopes of being in bed before midnight! Before I say good-bye though, I will share my OMMPD (one mommy moment per day). I realized recently that not only have I not been posting about the little mommy events in our life, but I haven't been keeping a journal either. I thought that if I could post at least one mommy moment per day, it might just make up for my lack of journaling and preserve some of those special moments.
**************************************
OMMPD: This morning Nini was very nervous. It was supposed to be her first ever test. They were going to be tested on the sight sords: see, the, no, we, can, come, and get. She has been having a hard time remembering them and we've worked really hard on them. She went into school today expecting her test and with her cute brave face ( I need to capture this). When I came to pick them up at school, the moment she saw me she ran over (not the norm) jumped in my arms and gave me a kiss. I asked her how her test went and she said she didn't have to take it! She was so relieved and I was right in her way to get the reward from it - a great big hug and kiss! They also had their first piano lesson today!
Do you have a Halloween mascot?
What is your OMMPD?