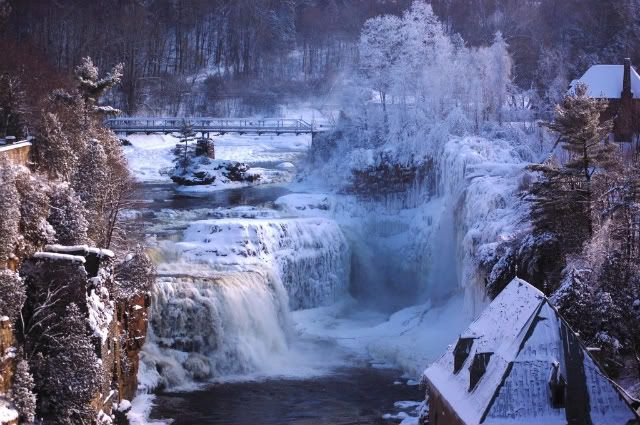 Ausuble River, NY
It is such a
great feeling
to come across something like this and no human being could have possibly of made something as spectacular as this. I don't speak for the actual photo taking, but the beautiful of the falls and frozen ice - it's just beautiful! This is Ausable Forks, NY and our family was fortunate to drive past, have no cars behind us; which
allowed me
to climb up on the fence and take this photo. Isn't is so cool!
A
pose
with the Christmas Cards.
I waited to mail most of my cards until we could visit North Pole, NY one of at least two places in the states that receive and respond to actual letters from Santa. The post office is small and quaint and attached to a very retro amusement park that I just loved.


Nini spots Santa coming...
They had little performances which included
Santa
entering on a sleigh being pulled by an real reindeer, Alice, Ragedy Ann, and other animals. They sang and danced while we all watched and froze! Then we headed to Santa's house...
..where the girls met this wonderful Santa. He was so super with the girls and this shot was my favorite. It's funny, when put on the spot, Cici asked for a Teddy Bear, and Nini asked for a football - I guess she's been watching
A Christmas Story
one too many times.
The rides were few, but with it being winter and freezing outside, the lines were non-existant, and quaint. They were made just for
small kids
to ride and the girls made sure to hit this one, the carousel, the swinging swings, and the Christmas tree ride - and let's not forget a train ride.
We stayed at Acorn Cottage until Sunday hoping to come back for church in the morning. When we awoke to snow and more coming, I had to call and cancel my violin solo, and hope that my
good friend
Kathy could fill in for the primary conducting, and some of our missionaries could fill in for me on the piano.
On Acorn Cottage before the
2nd storm
this week.
We headed back to Montreal slowly, but less than a mile from our cabin a young mother with her two kids had slid into the embankment. She
seemed
a little out of it and it had looked like she had been sitting their for awhile. We went back and got our snow shovel and Craig started digging her out. Her kids were OK, thankfully. Soon after, several vehicles we had seen pass us, came back and she had abou five
men helping
her get out. Long story short, she got out and we proceeded to get back home seeing five other accidents along the way. We must have gotten at least 15 inches.
How many of you are snowed in?
Is Christmas like you thought it would be this year?
Are you finished with your shopping?