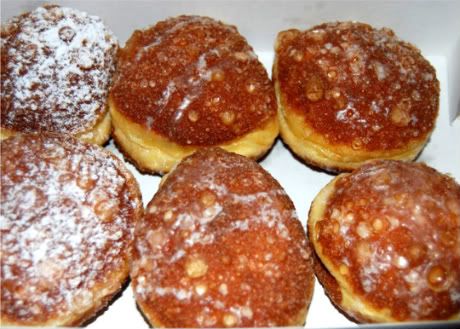 What is a Ponki? This is what I asked myself when a friend I hadn't seen for several months came to visit me last week. There was no denying the fantastic smell that made it's way out of the small box she handed me and I was confident that whatever Ponki was - I would like them! Ponki's are Polish donuts, filled with cremes, chocolates, and/or fruit fillings. They are also known as a Berliner and also better than any donut I've ever had. The bakery is called
La pâtisserie-boulangerie
Wawel and there are several locations throughout the city.
The wonderful friend who took the time to bring it by was Rosemary. She is originally from Switerzerland, but has been here for over 30 years. We met when we first arrived and it has been wonderful to get to know her better. She spent several hours at my home and shared with me her portfolio of abstract paintings. I am grateful for her service, as I know she rarely gets time off work. Thank you Rosemary!
Ever heard of a Berliner or a Ponki?