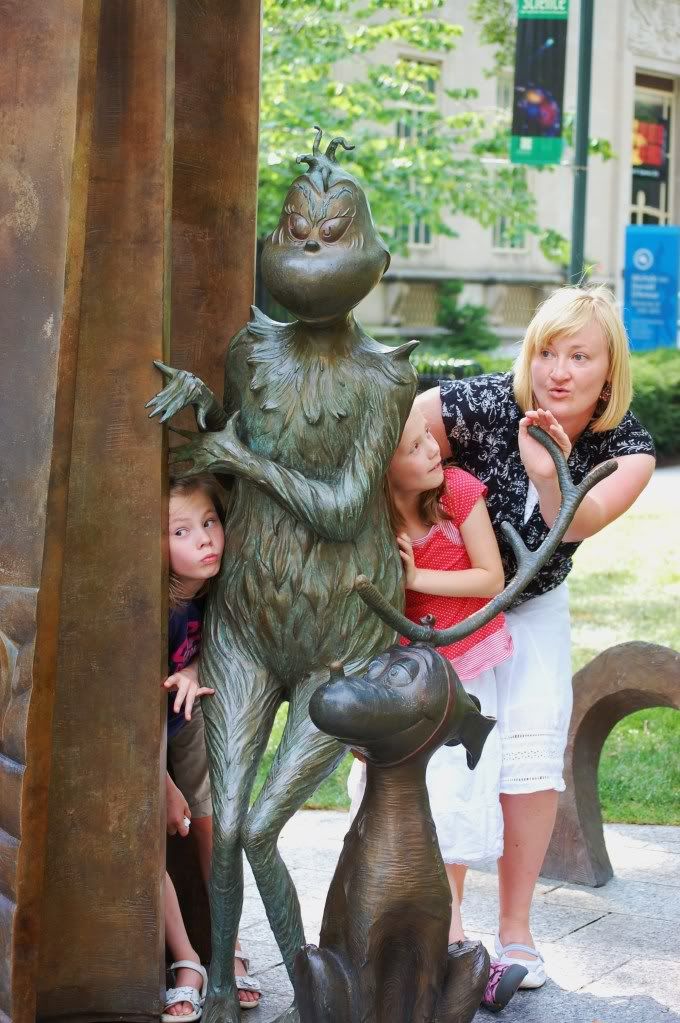 The Grinch looked around, but since reindeer are scarce, there was none to be found. Did that stop the Grinch? Ha! He simply said: If I can't *find* a reindeer, I'll *make* one instead. So he took his dog Max, and he took some black thread, and he tied a big horn on the top of his head...
We tried to be sneaky and get Max to come home with us - but, alas, he was a good dog and stayed with his soon-to-be lovable master, Mr. Grinch!
We have been overjoyed to have our young family friend, Loan, join us in our new home for a week. We have been trying to show her around the best we can and have managed to enjoy a couple fun outings. My favorite, so far, is the
Dr. Seuss Memorial Park in Springfield,
Massachussetts. After visiting the park this week, I found out that it is part of several Museums and Springfield Library called the Quadrangle. There wasn't much else around the area, but once inside this little courtyard park it was clean, safe, and an enjoyable place for a picnic.
Horton, of course, played a big part in the sculpture park where both girls quickly found a few playmates to run and jump with around the park and statues.
I couldn't help but notice these awesome orange sneakers walking past me. Almost perfect for one of Dr. Seuss's books.



On our way to Springfield, we stopped in Deerfield, Ma. at the Yankee Candle store. Loan scored this yummy candied apple she was kind enough to share with the girls and myself. It was more than good!



Here are Cici and Nini holding hands with my 2nd favorite statue of a Lorax.
The boys were putting up with our traveling today. This was the 3rd roadtrip since our guest arrived and they were anxious for crawl time. I keep a large blanket in the car and spread it out whenever we can find a suitable place to sit. They enjoyed a good hour on the blanket before they had had enough of the day and the hot weather. It was time to pack - up!
Here Cici found the air conditioning in the Dr. Seuss gift shop, to help cool her off from the 95 degree tempuratures outside - pretty smart girl! We found the gift shop on the face of the Quandrangle right before entering the memorail statue park. It housed two gift shops and the Springfiled Science Museum. I would say that this outing was fun, but not an all day event - unless you take in the Museums and a picnic!
Have you been on a picnic recently?