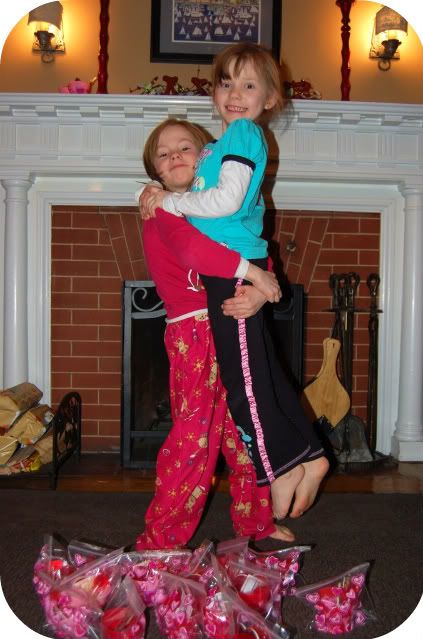 One
of my daughters came to me a couple of weeks ago completely thrilled that her top front tooth was loose. I couldn't help but say out loud
, oh no
! I have always seen the loss of a child's two front teeth as a transitioning point from "little" to ofiicially getting to be a "big" girl. Has time really past that quickly?
We worked madly last night getting the girl's Valentine's finished They have the next two days off from school, and yes, Nini picked Star Wars and Cici picked Hello Kitty. It was the first time they could actually write the names of their friends on their cards. We packed little heart buckets full of heart shaped paper, red hots, erasers, and chocolate.
To celebrate love and in the spirit of Valentine's:
I love to sleep.
I love rainy days.
I love hugging my children.
I love hugs.
I love to eat,
to bake cookies, and eat the dough.
I love to read.
I love to always be doing.
to sit and play piano, or talk to a friend.
I love Craig's dimples,
his amazing eye lashes,
and I love that he makes me laugh.
I love Nini's voice,
and the way Cici dances even when she sits.
I love chocolate cake, hamburgers,
and that first sip of cold diet coke.
I love to talk with my mom, and hear stories from my dad.
I love my sister, her silliness,
and her phone calls.
I love my brother, his laugh,
and that he's happy.
I love life,
to be happy,
and to make others happy.
What do you love?
Please mark that I will be changing my blog name to http://www.ahappyheartblog.blogspot.com
on February 16, 2008.