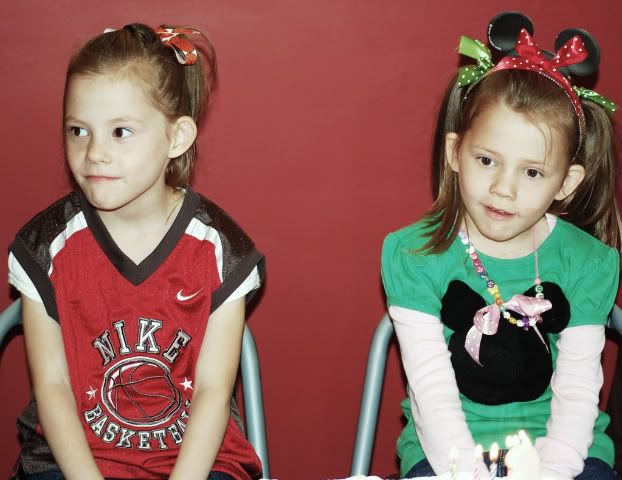 Minnie Mouse
and any basketball athlete would be proud of the party that Nini and Cici threw for their friends last weekend (ok I threw)! I wish I could have captured more of the fun, but isn't 50 photos enough? The focus of the party was to do crafts and play basketball, throw in some food, cake and presents and we were good for two scheduled hours and one more for friends that wanted to stay.
The crafts were set-up in the living room on a card table using a couple folded chairs and the piano bench. I copied those cute minni mouse shaped shirts cutting out black felt mouse head and tying polka-dotted ribbon. The girls glued on the shirt and then the ribbon was sewn to the shirt. The boys made foam hats and a few other crafts thrown in to keep everyone busy.


Leanne, Natalie, Kathy were all mums who ended up doing their child's crafts while the kids went to play! Sara, centered in the middle, moved here until Christmas from BC and I hired her to help at the craft table! But, according to this picture - there were enough adults anyway!
The girl's ended the evening by playing basketball outside and opening presents. I took a lot more photos, but most didn't make it because of all those other kids in the photo. Our favorite photo has to be this one:
Rolfe was definitely an invited guest at the birthday party -what do you think of his Minnie Mouse ears? Pretty cute, eh?!


Daddy's 39th Birthday!
Craig's birthday was the 27th! The same day as the girl's birthday party so we celebrated is on Friday. The cake pictured above was, shall we say, a flop! I had conspired to make the girl's cakes using the same basketball mouse ear theme, however, between unworthy cake pans, dye coloring, and runny frosting - I gave up. I used the leftovers to piece together this cake for Craig. I felt bad doing it like this, but cake is cake - that's what he would have said anyway! His present was buying a TV for the cabin and installing a closet TV/door system that I just can't explain. I'll take a photo of it for you and post it next week!
What can I say, other than I was so, so tired of frosting and cakes, I opted for donuts, stacked on top of each other with six birthday candles on it! The girls have been needing some sort of game that they can do to keep their growing mind busy when we are traveling or when everything else has been done! These DS are great - especially for leverage - when they are misbehaving!


Nini was probably the most excited about this gift. We bought them one game each that they could switch and share and one DS each. They opened the game first and with confused faces, then excited, they ripped open the 2nd part of the gift. As you can see - I think Nini was a bit excited - just bit!
I'm sure that Cici was checking to make sure that hers was pink! That face of hers was so serious, it cracks me up! Poor thing, probably was hoping for a fancy dress! So sweet! She does like it and loves to get up early she says when every thing is quiet to play it.
Here is Craig stopping the girls from grabbing their gifts right off! I just had to take this shot - it seemed really sweet to me!
And all of this until next September!