I had been on my own for several nights because my husband had to fly to Utah for a couple of days. The girls were at a friends house spending the night and playing with her three kids during the day. It was lonely, but with my survival items of books, embroidery, computer, TV, and telephone- I kept myself busy. I looked forward to the girl's noises through house, but also wondering what kind of help could I really give them during this period of my full time bed rest. We snuggled into my bed that night and turned on a couple of shows that I had taped for them. One of them was the children's show Arthur. One of the children had made a concerted effort to be "kind" and was feeling that no one was appreciating them.

Soon after a Christmas Carol like character appeared to him to show him what it would be like if he wasn't around to have done those good deeds. He quickly realized that no one would have done them. He commented that it would have been nice if someone had thanked him. And his wise mentor explained that there is one person he knows that works all day and never really gets a thank you. They appeared in his house to show his mother working over the dishes by herself. The next vision was of her making the choice to quit and do nothing. With dishes piled to the sink and the house a mess, the mother goes off on vacation leaving the boy by himself.

At that moment, I had a little self-realizing ephiphany. I went through my head the people who have helped me during this process and counted at least nine. Nine people to help take up the slack for one mom bound to the couch and her bed. Seeing that I was "missed" so to speak, actually helped me relax and settle my thoughts of being an inadequate mother during this time.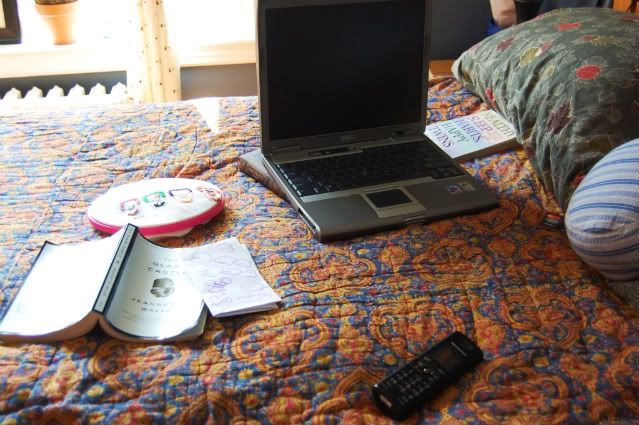 I am so grateful for my friend Kathy who miraculously went through bed rest with her twins and keeps telling me this is her way of "giving back". She has been such a wonderful help even when Craig is home by taking the girls during the day during the summer. Monday night when they brought the girls home, her family didn't just drop them off, they brought a family home evening lesson with them a game for the kids to play, and dessert. Afterwards, Kathy and her husband both stayed and did the dishes for me. I am completely overwhelmed with support and am looking forward to the day I can give back. I go in for another doctor's appointment today and will keep the blog updated with any new information!


Have you had any mommy epiphany moments?