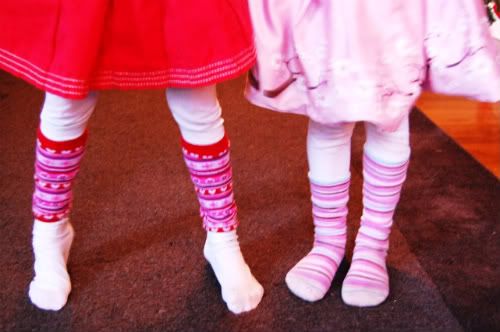 It was fifth grade and my teacher was Ms. Blackburn (or something like this). Except for my blue leg warmers and an overly frizzy perm - it was an uneventful year. Now, let's go back to those leg warmers. I was cool in them, even if no one else thought I was, because they were the fad of the day. This was back when one white glove was the norm and now you nod your head and say ahh, yes!
wink
I wore them a few times before putting them aside with my white beret and stirrup pants.
stop laughing.
I vowed that I would never wear any of these or ever adorn a glove on one hand again. And I didn't, until I had children. Now they make them in stripes, hearts, and all sorts of fun designs. You can buy colorful tights with matching leg warmers at Hanna Andersson and I even went so far as to create
leg warmers out of socks
and create a couple pairs of
crochet leg warmers.
I am an addict of the cute-ness of leg warmers.
I will fully admit that I also went back on my vow and purchased a couple pair of leg warmers for me.
I blame this on winter
. I am fully in love with the idea of leg warmers and it will be a sad day when my girls say they are too big to where them.
Do you believe in the cute-ness of leg warmers?